DR. SUKALPA CHAKRABARTI, DEPUTY DIRECTOR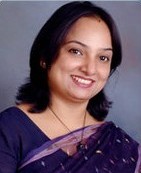 Dr. Sukalpa Chakrabarti is Associate Professor (IR & Public Policy) & Deputy Director at the Symbiosis School of International Studies, Symbiosis International University, Pune. She has been teaching across specializations in politics, international relations and international business & economy at UG to PG levels for over fifteen years now. Her areas of interest are International Relations, Politics & Public Policy. Her doctoral research involved a study on the "WTO and its dispute settlement mechanism- the political response of India with regard to IPR & Agriculture." From an area studies perspective, Asian regionalism, diplomacy and the role for India has been her major focus. Dr. Chakrabarti has authored books and contributed chapters to edited books. She has presented papers in various conferences (national and international) and has many publications to her credit.
A graduate in Political Science from Presidency College, Kolkata, Dr. Sukalpa Chakrabarti pursued her Masters in the same discipline from the University of Calcutta. She has earned the distinction of topping the university at graduation with record marks and went on to rank first class third in her master's. She also holds another post-graduate degree in International Business Management & Marketing. She has designed and developed courses for programmes at various educational institutes and has also been associated with distance learning education. She enjoys introducing new pedagogy in the courses taught and takes a proactive role in institution building activities. She has been a regular columnist for The Diplomatist, a leading Indian Magazine covering diplomatic and current affairs pertaining to relations between India and other countries. She has written for the East Asia Forum, based out of the Crawford School of Public Policy at the Australian National University. She is also a WiKi Fellow.
Presently, she is engaged in a minor research project covering a socio-economic assessment of Pune city, under SIRI.
Her latest publications (2016-17) include:
Chakrabarti Sukalpa (01/2017), "The New Cold War in Syria", in: Contemporary West Asia: Perspectives on Change and Continuity ed. Sujata Ashwarya and Mujib Alam, KW Publishers Pvt Ltd, ISBN: 978-9386288042
Chakrabarti Sukalpa, (09/2016), "The Emergence of New Institutions for Development Cooperation and the Impact on Indo – China Relations", in: Sino- Indian Relations- Contemporary Perspective, ed. Dr. R Sidda Goud, Dr. M. Mookherjee, Allied Publishers Private Limited (pp-145-158). ISBN: 978-93-85926-22-8
Ghosh Ishita, Chakrabarti Sukalpa, (06/ 2016) "Inward and Outward Foreign Investments of the Asian Economies in Transition and India: Determinants of FDI and India's Prospects in CLMV" Global Perspectives on Trade Integration and Economies in Transition, ed. Vasily Erokhin, IGI Global International (pp-212-23)
http://www.igi-global.com/gateway/chapter/156971.
ISBN: 9781522504528
Areas of Interest: International Relations, Political Economy, Politics & Public Policy