Dr. SHRIKANT PARANJPE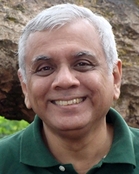 He is Professor in the Department of Defence and Strategic Studies, University of Pune, Pune 411007, India. He was a Fulbright Fellow (Post-Doctoral, Research) at the George Washington University, Washington D.C. in 1984-85, a Visiting Professor at Colorado College, Colorado Springs.
He is currently a Visiting Faculty member at the Dept. of Communication and Journalism, University of Pune where he teaches a course on Political Communication in India and Current Events/Issues of national and international importance. He is also an Academic Advisor at the Maharashtra Institute of Technology's School of Government. This is a program that seeks to train the Indian youth into social and political leadership. He has been associated with the ACM India Program for more than a decade.
His publications include India and South Asia since 1971 (New Delhi: Radiant, 1985); US Nonproliferation Policy in Action: South Asia (New Delhi: Sterling, 1987, simultaneously published by the Oriental University Press, London and the Envoy Press, New York); A Peace Agenda for Indian Foreign Policy (New Delhi: Har Anand, 1995) (Co-author) ; Strategic Studies (Pune: Continental, 1995) (in Marathi) ; SAARC Parliament (New Delhi, JNU,1995); Western India: History, Society and Culture, (Editor) (Pune: ISMM, 1997); Parliament and the Making of Indian Foreign Policy: A Study of Nuclear Policy (New Delhi: Radiant, 1997) and India's Internal Security: Issues and Perspectives, (Editor) (New Delhi: Kalinga, 2009)