Ram Sathe Chair In International Studies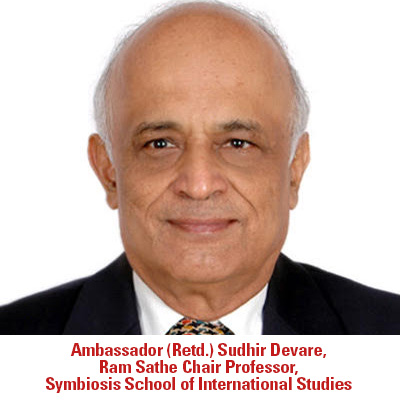 The Symbiosis School of International Studies has established the 'Ram Sathe Chair' in International Studies. The Chair was launched at the hands of Mr. Shiv Shankar Menon, Former National Security Advisor to the Former Prime Minister of India, Mr. Manmohan Singh on 22nd February, 2013.
The academic chair is presently held by the former ambassador of India, Mr. Sudhir Devare. Ambassador Devare has served in the Indian missions in Moscow, Washington D.C., Sikkim, Myanmar, Frankfurt and Geneva. He was the Permanent Secretary with the Ministry of External Affairs, Government of India from 1998 to 2001, where he was closely associated with India's 'Look- East' Policy initiative with the Asia-Pacific. Ambassador Devare has also served as India's Ambassador to South Korea, Ukraine and Indonesia and has been a visiting professor at the Jawaharlal Nehru University (JNU) and the Vice-Chairman of Research and Information System (RIS) for Developing Countries, New Delhi. He was also the Director General of the Indian Council of World Affairs (ICWA), one of India's oldest think-tanks. Ambassador Devare is also a Fellow at the Weatherhead Center for International Affairs, Harvard University, USA. He has authored and edited books, and written extensively on India's relations with Southeast and East Asian nations. He has also authored papers in the field of economic diplomacy, which have been published in various national and international journals.